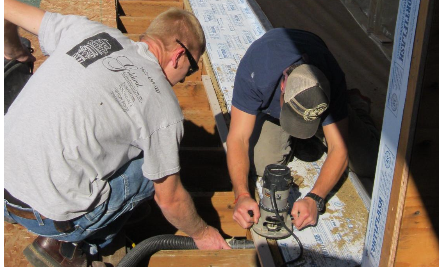 ESTABLISHED IN 1996,

GOLDWAL CONSTRUCTION

WORKS TO ENSURE EVERY ASPECT OF OUR JOB IS DONE WITH A LEVEL OF QUALITY
Ed Walter brings 50 years of experience in the many facets of the door industry to the business. Jay Golden has been a remodel and finish carpenter for 40 years. Both have worked from the dirt to the roof.
Exceptional Remodeling &
Custom Door Craftsmanship
The main focus of Goldwal Construction from day one has been quality. Quality relationships with customers, quality relationships with sub contractors, quality relationships with employees, and an end product that reflects attention to detail from start to finish.
That is why we go the extra mile, we place safety and client satisfaction at the front of everything we do. That's what clients have come to know and expect as there is no substitute for excellence. Most importantly, we make certain everyone on our team is extremely qualified. It's the best way we know to earn your trust and keep your business.
To meet demand, Goldwal started adding employees almost immediately after it started. Our staff includes Ed, Jay, four journeymen carpenters, three apprentices, and office and warehouse support. All of our journeymen have been with us for over ten years. Goldwal promotes a family atmosphere of support along with continuing education for its employees.
I have been working at Goldwal for over 10 years, and have enjoyed every minute of it. Jay and Ed are always encourgaing us to learn and better ourselves with every task we complete. It's wonderful working for a company that cares. - Allison Wray